Today I just have a few important, quick, painless reminders for y'all.
1. Have you entered my
Capernaum Vintage giveaway
over at
Meet Virginia
yet? If not, better hurry. It ends
this Saturday
. Don't miss your chance to win this vintage textured leather clutch! If you follow my blog through GFC, you have an easy entry already! Won't it look cute for the holidays? I'm almost sad that I won't get to use it for myself!
2. Next, remember to head over to
The Scott's Crib Facebook page
and LIKE it and then do the same for my
Capernaum Home Facebook page
. Help my friend Latoya reach her goal of
188 LIKES
by
November 29th
and then enter her giveaway on her blog
The Scott's Crib
at the end of the month in celebration. You will win one of these teapots from
Capernaum Vintage
!
3. You receive
20% OFF
your order at
Capernaum Vintage
with the coupon code
BLOG20
just for being a reader right here at Capernaum Home. :)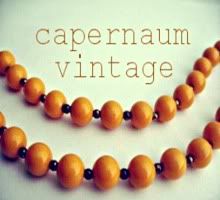 4. I'm currently taking guest posters, so if anyone has something they'd like to share here at Capernaum Home, shoot me an email: capernaum(dot)home(at)gmail(dot)com. Or if you want to do any ad swapping, let me know. Thanks and hope to hear from ya soon!